Loy Krathong 2018 in Bangkok
Where to Enjoy Loy Krathong in Bangkok on November 22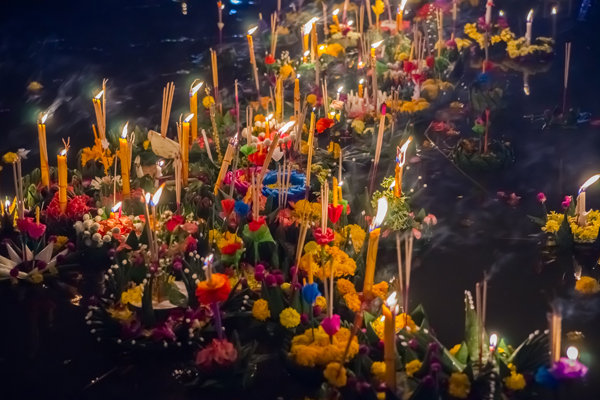 Every year, Loy Krathong falls on the night of the twelfth lunar month (usually in November), at the end of the rainy season when the full moon lights up the sky. The sight of thousands of krathongs, their flickering candles sending pinpoints of light far into the horizon, is a truly magical sight, and there are plenty of places in Bangkok where you can get involved with the festivities.
The history behind the festival is complex, and Thais celebrate for many reasons. The main rice harvest season has ended and it's time to thank the Water Goddess for a year's worth of her abundant supply, as well as apologize for polluting her waters. Some believe that this is the time to symbolically "float away" all the anger and grudges you have been holding onto, and including a fingernail or a lock of hair on your krathong is seen as a way of letting the dark side of yourself go, to start anew, free of negative feelings. If your candle stays alight until your krathong disappears out of sight, it means a year of good luck. 
Where can you float a Krathong in Bangkok? The main Loy Krathong celebration in Bangkok has been held at Asiatique since 2013. Perviously it was held along the banks of Wat Saket in the Old City, which is still a popular place to celebrate. For anyone around Khao San Road, head to the nearby Phra Athit Pier.
Riverside Locations Asiatique (Riverside) Wat Saket (Riverside/Old City) Phra Athit Pier (Riverside/ Old City) Maharaj Lifestyle Mall (Riverside/Old City) Popular Lakes for Floating Krathongs Lumpini Park (Silom) Benjasiri Park (Sukhumvit) Benjakiti Park (Sukhumvit)
What is a Krathong? There is no equivalent word in English for 'krathong'. You may hear people referring to it as a small boat, vessel, receptacle or container. In the run-up to the festival, many shops and market stalls will display ready-made Krathongs, or in parts so you can assemble and decorate as you wish. In the past, krathongs were made from natural materials – usually a section from a banana tree trunk, crafted into a lotus shape by using folded banana leaves, and these can still be found for sale around the main festival sites. More recently, Thais have become more creative in their craft and design the krathongs from coconut shells, flowers, baked bread, potato slices, some breaking with the conventional lotus leaf shape in favour of turtles and other sea creatures.